Aktor dan Crews film sering ditempatkan ke dalam situasi sangat berbahaya untuk memberikan hasil yang lebih asli untuk film mereka.
Tapi sayangnya pada banyak kesempatan mengakibatkan tragedi kematian nyata di set.
Berikut ini adalah daftar dari 10 film yang berhubungan dengan kematian tragis..
10. Twilight Zone
Korban: Vic Morrow dan aktor cilik Myca Dinh Le (umur 7 th) dan Renee Shin-Yi Chen (umur 6 th)
Selama segmen film yang diarahkan oleh John Landis pada 23 Juli 1982, aktor
Vic Morrow dan aktor cilik Myca Dinh Le (umur 7) juga Renee Shin-Yi Chen (umur 6) meninggal dalam kecelakaan yang melibatkan sebuah helikopter yang digunakan. Helikopter yang telah berada di ketinggian hanya 25 kaki (8 meter), terlalu rendah untuk menghindari ledakan yang digunakan pada pembuatan ledakan.
Kecelakaan ini menyebabkan larangan terhadap dunia film untuk melarang anak2 terlibat dalam kegiatan berbahaya di film.
9. Top Gun
Koban: Art Scholl
Pilot aerobatic terkenal, Art Scholl, yang direkrut untuk melakukan penerbangan di film untuk menghasilkan gambar yg sempurna untuk film. di dalam naskah Art scholl disuruh untuk melakukan flat spin, tetapi Scholl tidak dapat mengendalikan dan akhirnya pesawat yg diterbangkannya jatuh ke Samudra Pasifik di bagian selatan pantai California. Penyebab kecelakaan tetap tidak diketahui. Top Gun didedikasikan untuk mengingat Art Scholl.
8. The Return of the Musketeers
Korban: Roy Kinnear
Pada 20 September 1988, Madrid, Spanyol, aktor Roy Kinnear patah tulang pinggangnya setelah jatuh dari kuda lalu dia tak dapat di tolong lagi.
7. The Flight of the Phoenix
Korban: Paul Mantz
Di film produksi 1965, Paul Mantz tidak menggunakan stunt untuk menerbangkan pesawat asli untuk hasil film yang maksimal, tetapi dia malakukan kesalahan pada saat manuver take-off
6. Jumper
Korban: David Ritchie
Untuk pembuatan set di salah satu adegan Samuel Jackson, menggunakan bahan2 campuran dari pasir, tanah dan es.. crew produksi David Ritchie tertimpa pasirbeku dan tanah yang ingin di bongkar di salah satu set outdoor, dimana cuaca disaat itu pun lagi dingin2nya.
5. X*X
Korban: Harry L O'connor
salah satu stunt Van Diesel untuk melakukan parasailing, tetapi naas karena tertabrak jembatan.
4. The Final Season
Korban: Roland Schlotzhauer
Cameraman terkenal yang selalu mengambil gambar berkualitas dari helikopter, naas dibulan oktober 2007, helikopter yg dugunakan untuk mengambil gbr di film ini terjatuh.
3. Troy
Korban: George Camilleri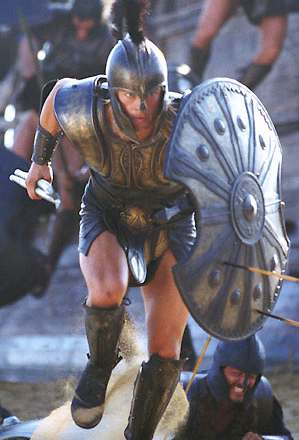 Stuntman dari Brad Pitt patah tulang kakinya pada saat melakukan adegan, dan tidak tertolong lagi ketika dibawa ke RS krn pembekuan darah di lukanya.
2. The Crow
Korban: Brandon Lee (Putra Bruce Lee)
Pada tanggal 31 Maret 1993 di North Carolina studios, Wilmington NC.
Pada sisa 8 hari untuk penyelesaian film tsb, ada set dimana Lee (Eric Draven) menyaksikan tunangannya akan diperkosa oleh Michael Masse..
didalam set itu Michal masse menembak Eric Draven dan ternyata senjatanya terisi dengan peluru asli.
1. Enter the Dragon
Korban: Bruce Lee
Bruce Lee meninggal bukan karena pembengkakan otak, tapi PENYUSUTAN OTAK. Karena pada saat otopsi otaknya di temukan menyusut 100cc, penyebab kematiannya di vonis karena kelelahan. Para Martial Artist berpendapat hal tsb terjadi karena tubuh yg push melebihi limitnya, Contohnya gini: misalkan anda Fitness dan mengangkat beban, di titik tertentu anda akan merasa sangat2 tidak kuat utk melakukan repetisi / angkatan tapi anda paksa sampai tubuh dan kepala anda ikut bergetar, nah hal inilah yg tidak baik. Bruce Lee melakukan ini setiap hari dan hampir setiap saat dimana dia tidak bekerja maka dia olahraga.
Dan utk kematiannya lebih tepat yaitu setelah dia menyelesaikan syutting fight scene utk film GAME OF DEATH yg merupakan film terakhirnya. Bukan ENTER THE DRAGON!!! Disini sampai2 rekan2 Bruce berkata jangan pernah lagi gunakan kata "DEATH" pada judul2 film Warner Bros.
Tambahan lagi, film GAME OF DEATH adalah 1 1 nya film yg menggunakan mayat asli pada adegan kematian dimana sang tokoh utama akhirnya meninggal di akhir cerita. Disitu terlihat adegan pemakaman Bruce Lee dan disitu jg terlihat Mayat Bruce Lee yg sudah di balsem dan siap tutup peti yg disaksikan seluruh Hongkong.

Sumber : http://www.bikinsegar.co.cc/2010/10/10-kematian-tragis-saat-syuting.html